MPH HomePage Copyright

1999-2016

MPH Forum
Leisure
Email Us

Gallery
Roll
Knights of Winston County, Alabama
Copyright © 1996 2003 Minor Publishing House
Excerpts taken from the Northwest Alabamian,
Written by Bettye Vann Knight, Issue Sept. 12, 1983


The descendants of the Knights of Winston County, Alabama meet on the fourth Sunday of each August for celebration of a family reunion. The ancestors of the family came from South Carolina and Georgia. They migrated to Alabama around 1857 and settled it is believed in Morgan County, Alabama. The patriarch of this family, Thomas Welborn Knight and his wife, Mary Elizabeth Poore were living in Winston County by 1880. They lived near the old Godfrey School and their address was listed as Motes, Alabama. Thomas Welborn was born at Stone Mountain, Georgia on November 23, 1830. The names of his parents are not known but his father was born in Georgia and his mother in South Carolina. His wife, Mary Elizabeth Poore, was born on January 4, 1837 in South Carolina. Her parents, mother Tempa Poore were born in South Carolina also.

It is not known where Thomas W. and Mary Elizabeth met, courted and fell in love but they were married on April 7, 1853.Thomas Welborn enlisted as a private in the Army of the Confederate states of America on May 23, 1863. His service records state that he enlisted at Mobile, Alabama in Company D of the 17th Regiment. He fought with the Southern Army for two years and was honorably discharged on May 10, 1865. It is not known where his family was living at this time. They were not listed on the 1860 census of Mobile or Winston Counties. Rufus Leander, believed to be his eldest son, would have been three years old at the census time as he was born August 22, 1857 in Alabama. By 1880, Thomas W. acquired land in Winston County and moved his family to Motes, Alabama.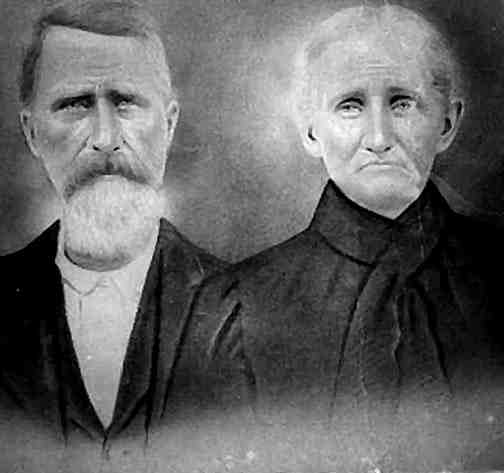 Thomas Welborn Knight & Mary Elizabeth Poore
Children
Other children of Thomas Welborn Knight and Mary Elizabeth Poor were, Thomas A. Knight (1862 - 1929), married Sarah C. Lane (1870 - 1948), daughter of S.D. Lane. George Washington Knight (1866 - 1936) first married Julia A. Lane (1872 - 1906), daughter of S.D. Lane and sister of Sarah C. Lane. After her death he married on November 7, 1907 Avrella Nix McElroy (1867 - 1935), daughter of J.J. and Winnie Nix. Francis Knight (1869 - ???) married Jasper Williams. John Knight (1872 - ???) married Alfreda Simpson. Tempa Lucrecia (1874 - ???) married on December 22, 1892 John S. Jones. Henry N. Knight (1878 - ???) married on May 20, 1900 Dannie W. Barley. Martha A. Knight (1881 - ???) married Louis Williams. Rufus Leander Knight (August 22, 1857 - ???) married Ida Loutisha Parson September 22, 1927. Listed by historians as having attended Old Godfrey School were Francis, George, John, Lou E., and Thomas Knight. Also, Julia and Sarah were listed as students.

On the 1900 census Mary Elizabeth's mother was listed as living with Thomas Welborn. The name appears to be Tempa Poore. In 1909 when he filed for a soldier's pension because of old age and feebleness, his children were married and he and his wife lived on 160 acres that he owned. He died on December 16, 1918 and Mary Elizabeth filed for a widow's pension which she received until her death August 1, 1922. They are both buried at Kelley Mill, now New Hope Baptist Cemetery south of Double Springs, Alabama. Many of his children and grandchildren are buried there also.

Living next to his father in Motes, Alabama were Rufus Leander Knight and his wife, Ida Loutisha Parson. Rufus was 21 years old and Loutisha was 13. She was born December 22, 1867. She often stated that she married at 11 years old and that she still played with dolls. They later moved to Haleyville on the Macedonia Road and raised a large family of twelve children. Rufus L. died September 22, 1927 and Loutisha died May 29, 1953. Loutisha's background was also in Georgia and South Carolina. She was born in Banks County, Georgia on December 22, 1867. She was one of seven children born to Oliver Washington Parson and his second wife Harriet Melissa Motes. Loutisha often told of making the long journey from Georgia to North Alabama in a covered wagon with her family in her early childhood. Both of her parents were born in Habersham County, Georgia that was divided into Banks County in 1858. Part of Habersham and a portion of Franklin was designated as Banks County.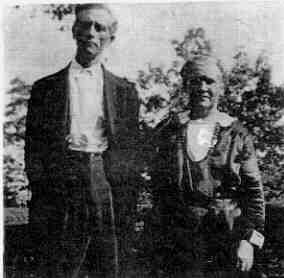 George W. Knight & Avrella Nix Knight

Knight Brothers
This picture was taken by LeRoy Glenn at Kelly Mill Baptist Church in 1961 just South of Double Springs, Alabama. From Left to right: Fletcher W. Knight, Virgle G. Knight, Washington P. Knight, Dewey O. Knight, Wesley Knight, these brothers were from the marriage of George Washington Knight and his first wife Julia A. Lane who died at age 34 in 1906. Brothers not pictured, who were deceased at the time were Albert A. Knight and Harris A. Knight. Next is Albert McElroy who was the son of Arvella Nix McElroy before she married George W. Knight. The last on the right is Buren H. Knight the only child of George W. Knight and Avrella Nix Knight.

----------------------------------------------------------------------------------------------------------

The following was written by Norma Glenn the night after her Dad, Buren H. Knight died. It is a fitting tribute to a true gentleman who loved his fellow man, his family, and his Lord and Savior.

A Tribute to Dad

by Norma Jeane (Knight) Glenn 1936-2003

Thank you Dad for the many ways in which you influenced our lives as you very quietly, humbly, and gently walked through yours, never saying a lot but always living an example of which to follow. Thank you for always being there when we needed you, and for prodding us on when we had a downtime. Thank you for always seeing the good in people and never the bad, and for the remembrance of your words, "if you can't say something good, say nothing at all".

Thank you for the many prayers we heard, and for all the times you were praying for us that we didn't hear. Thank you for showing us such a courageous way of leaving this earth and joining our heavenly father. You did it with such dignity and grace. You set your last and maybe most important example of all for us.

You're now with our mother, grandmother, great grandmother, and great great grandmother. Even though we mourn and are greatly saddened by your passing, we know that you are just now experiencing a real joy and happiness that we can't even imagine.

We know that you were not ready to leave us here, but we just wish to say that you will remain in our hearts, and there will forever on this earth be a void in our lives. Father, grandfather, great grandfather, and great great grandfather, we love you and will miss you so very much...

Terrible Accident

by Mick Lindley

My grandfather Buren Knight would never do much of anything on Sunday. He would not go hunting, fishing, or work unless he had too. He always had a saying I was to learn later that went along with this story. That saying was "unloaded guns kill people". This always intrigued me, so as a boy of about 14, one day I asked him. "Papa Knight, why won't you hunt on Sunday? ". He ignored the question, so I asked again, "why won't you hunt on Sunday? ". He answered with his often used phrase "I just don't do it". This was totally unacceptable to a 14-year-old. I asked again point blank, "you gotta have a reason, now why". He didn't say anything for at least a full minute and I would probably have dropped it there. Finally with a tear in his eye he said "I killed my brother on Sunday". This hit me like a ton of bricks. I didn't say anything for at least a couple of minutes. I wanted to crawl under the chair and not come out. Finally I recovered enough to get up the courage to simply ask "how".

Here is the story as he briefly related it to me. Harris was 38 years old at the time and he was 21 years old. It was Sunday December 24, 1933. He and Harrison an older brother decided to go hunting. Harris was carrying the shotgun. As they approached a barb wire fence Harris handed the shotgun to him to hold while Harris crawled under the fence. When Harris stood up he passed the gun to him. At that time the "unloaded gun" fired and killed Harris instantly.

Four days later Thursday December 28, 1933 my mother Ethelene was born. This story is a good example of the fact that we never know what each week (or day) holds. In less than a week his brother died and his second daughter was born. The only real answer that makes any sense at all is that we don't know what life holds from day to day. Be ready, if you don't know God get to know him before it is too late.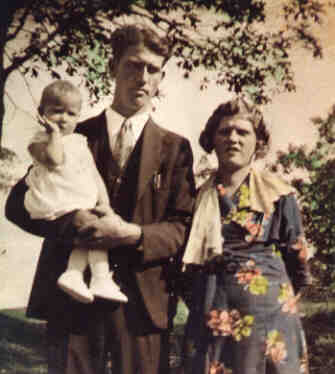 Buren H. & Bertha Shewbart Knight
With Evelyn in 1933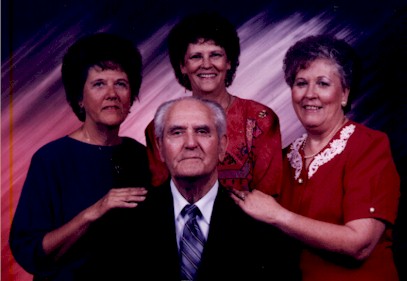 Daughters of Buren H. Knight and Bertha Shewbart Knight with Dad.
From left, Ethelene W. Lindley, Norma J. Glenn, and Evelyn L. Peoples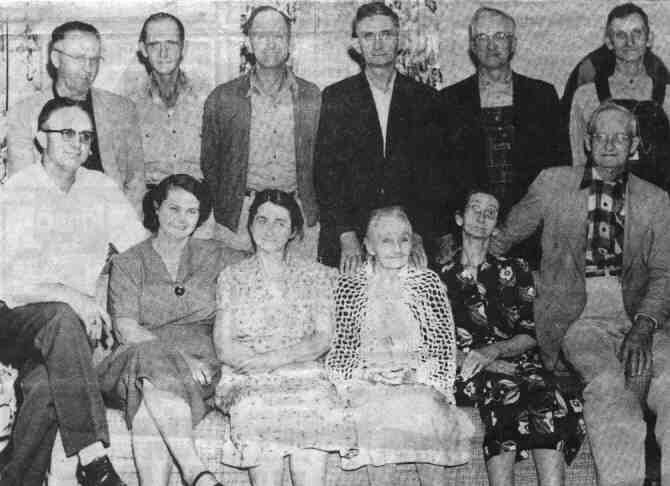 Rufus Leander Knight Family
The Knight's are known to have settled in Winston County, Alabama before 1880. The picture above was taken in the early 1950's. It depicts Ida Loutisha Knight with 11 of her `12 children. Front row left to right are: Carl William who married Leaty P. Kidd, Hester Evar who married John S. League, Alpha who married Nelson A. Posey, the Mother Mrs Knight, Melissa Jane who married P. Cleveland Townsend, and George who married Leona Turner. On the back row: Edgar who married Flossie J. Wheeler, Arley Oscar who married Docie O. Crumpton, Arthur Henry who married Cora Pugh, James Wesley who married Ausie Elizabeth Taylor, Hubert who married Gerthis Winsett, and Thomas Oliver who married Avie R. Gilbert

Any information you might have on the Knight family would be greatly appreciated. My E-Mail address is Mick@LindleyOnline.com Thanks, Mick Lindley
If you would like to go back to MPH please Click Here